THE SOMERBY TEAM SOUTH AFRICA
Let the Somerby Safaris team treat you to a truly wonderful African safari experience, that enables you to see the magnificent beauty of Africa's landscapes and topography while experiencing African hunting at its best with passionate, experienced and enthusiastic Professional hunters and guides – We will make sure that your highest expectations are exceeded.
Somerby Safaris' dedicated team comprises of highly experienced professional hunters and guides, indigenous trackers and skillful skinners operating under the watchful eye of the owner, Helgard Beukes, better known as "DROM".
Drom was born and raised on the plains of the Free State Province and hunting has been his passion from a very young age. He started his professional hunting career right after high school and gained a tremendous amount of experience working for one of the top Hunting Companies at the time, before starting his own operation. Suné was raised on a horse ranch and grew up loving the outdoors and people. Her passion was entertaining the ladies and non-hunters on day trips and tours but since the arrival of Jacobus, their oldest son in August 2012, she is now in the office full time making sure everything is arranged.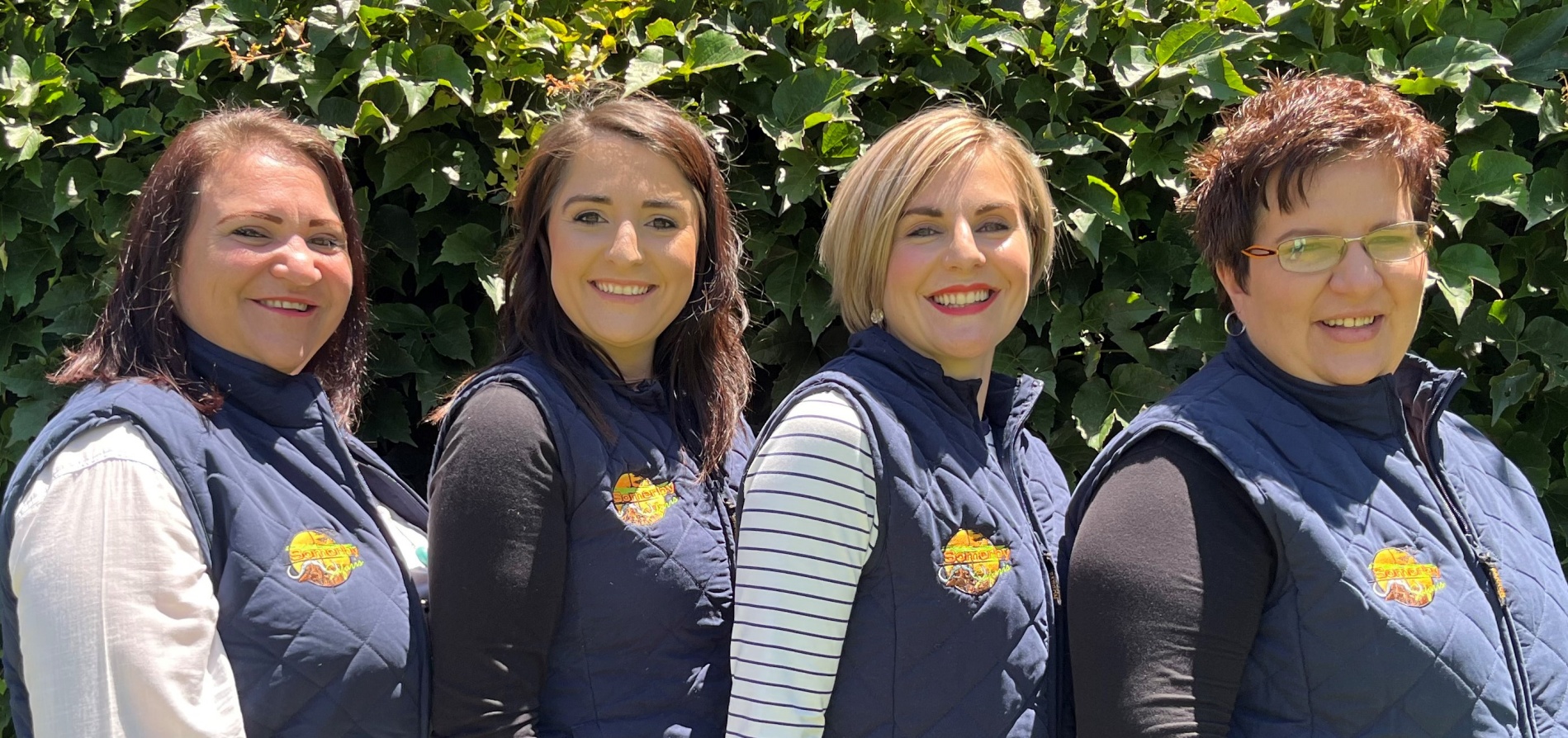 Eliscé Boshoff, Lindie Humphries, Suné Beukes and Juanette Lee are in the office to walk you through every step of the way when planning your dream African safari, to make sure all the paperwork is done, to answer all your questions and to make sure everything runs smoothly.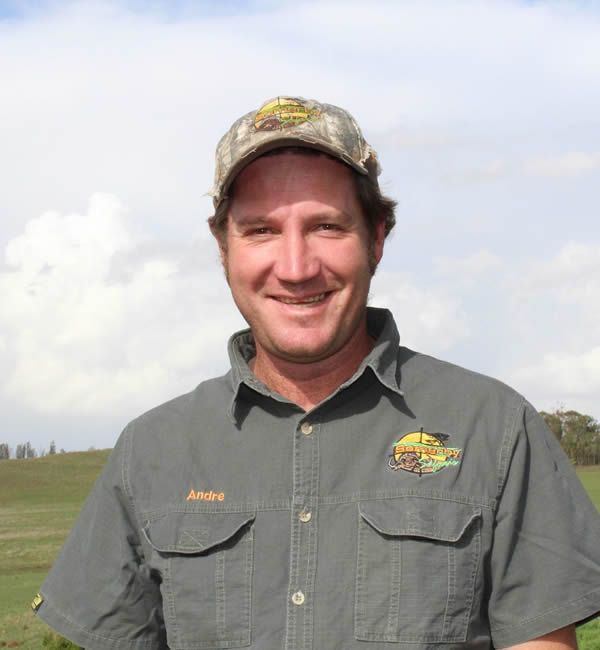 André hails from the Eastern Cape. André has hunted a great deal in South Africa and has also conducted hunts in Zimbabwe, and is particularly adept at hunting Cape Buffalo. André is an incredibly skilful, passionate hunter with a real fetish for kudu hunting.
Family photo – click to enlarge.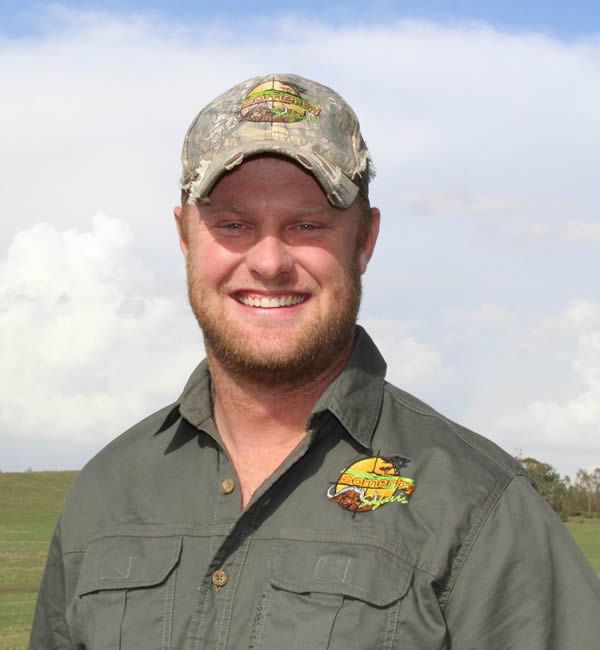 Charles is a born and bred Kwazulu-Natal boy who discovered his passion for hunting at a very young age. Charles has hunted all over South Africa, as well as in Zimbabwe. Charles has a real affinity for Big 5 hunting, having guided a large number of clients in getting their Big 5 trophies. His enthusiasm for dangerous game hunting is infectious.


Family photo – click to enlarge.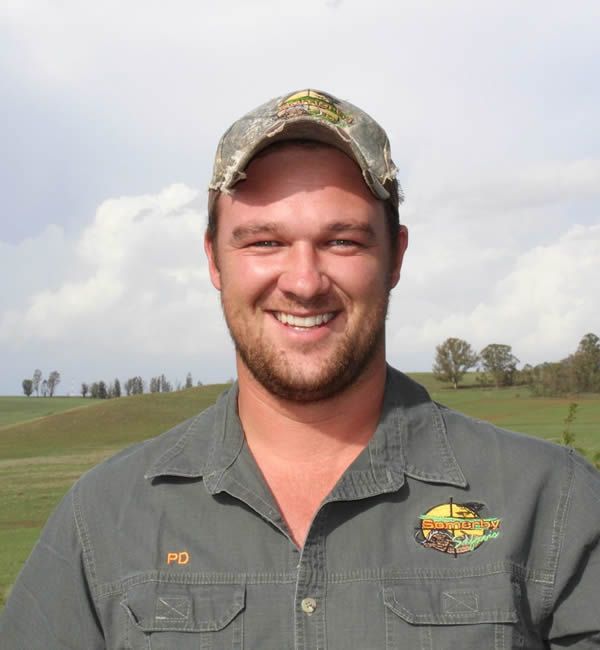 PD comes from the Free State, where he grew up fishing and hunting. PD is a real asset to Somerby Hunting Safaris, having spent his whole life practicing for what we do. PD loves nature and really enjoys meeting hunters from all walks of life. PD hunts broadly in South Africa and particularly enjoys hunting warthog, kudu and bushbuck.
Family photo – click to enlarge.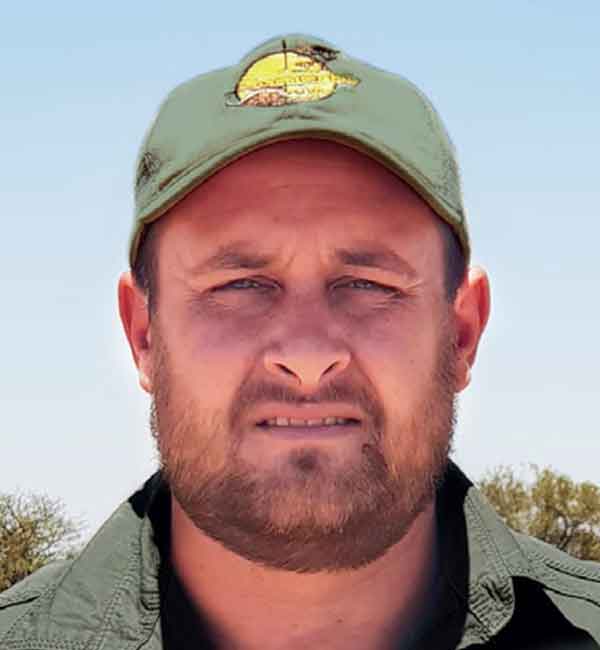 Johan grew up on a farm in North West and still lives there up to date. He was born with a passion for the field and people. He started to hunt and fish from a very young age. He has been a proffesional hunter for 13 years now and have a passion for his job. He likes bow hunting but also enjoys rifle hunting.
Family photo – click to enlarge.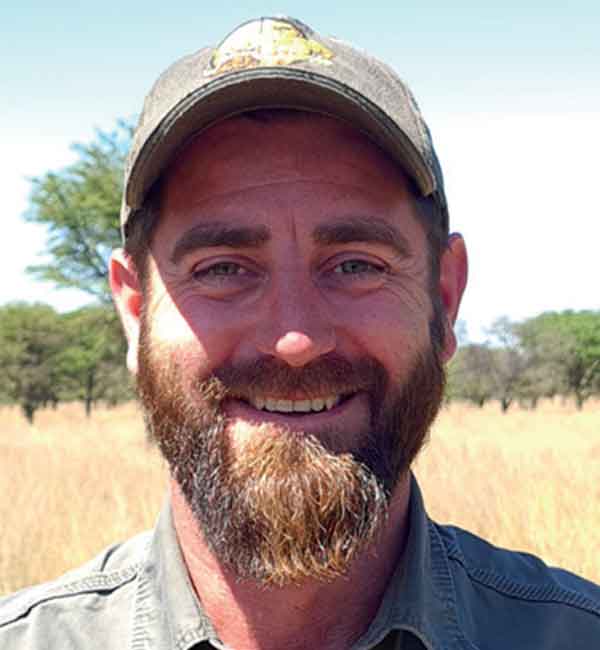 Schalk was born and raised in Pretoria in a hunting family. His passion for the out doors took him to college where he got a degree in game ranch management. He has been managing properties and hunting in various areas of South Africa since 2005. He has a love for out smarting big Eland bulls.
Family photo – click to enlarge.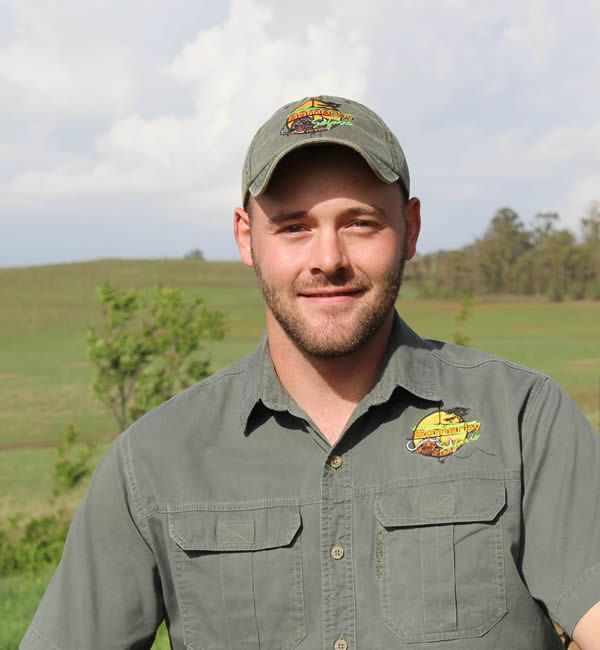 TJ was born and raised in Mpumalanga and has always loved hunting. TJ is the newest member of Somerby and has a real knack with a bow. TJ loves bowhunting because of the whole process involved – getting so close to the animal and nature – and the thrill just before the release. TJ's absolute favourite is Tiny Ten hunting, especially klipspringer.
Family photo – click to enlarge.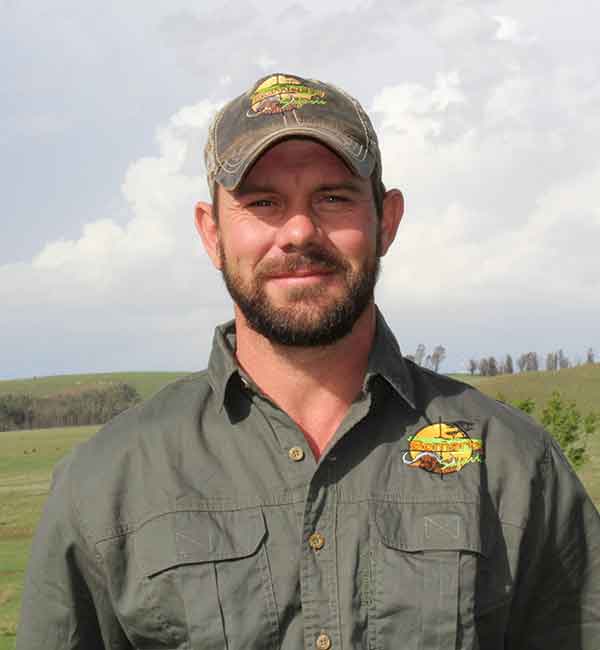 Janneman was raised in the North-West Province and has a great love for the bush, having grown up in the thick of it. Janneman grew up on the banks of the Vaal River and has a fondness for nature and conservation as a result. Janneman has hunted extensively in South Africa and has also conducted hunts in Namibia and Botswana. Janneman is rather partial to kudu and Cape buffalo hunting.
Family photo – click to enlarge.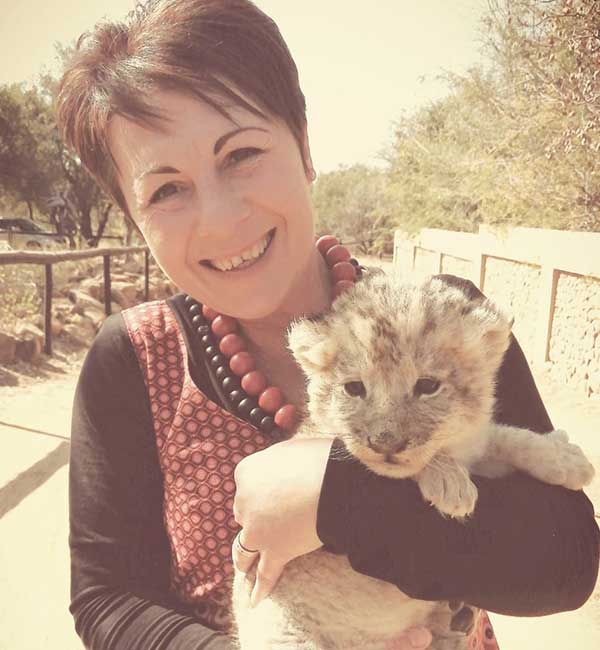 Ansa has been with the Somerby team for many years. She used to be part of the office personnel but after getting married to her sweetheart, she moved to Limpopo and now focuses on guiding. She is a very relaxed person and gets along with everybody. She loves to combine her passion for traveling with good coffee shops, red wine, lots of laughter, meeting new people and beautiful sunsets. You will immediately recognize her with her red beats around her neck, a dog or two in her arms and always wanting to show her clients everything and more of South Africa while they are with Somerby.
Family photo – click to enlarge.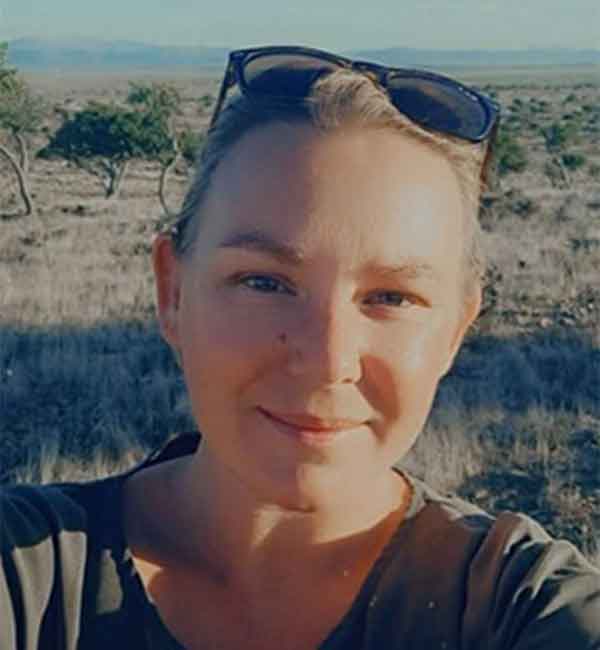 Natalie grew up in Durban, KwaZulu-Natal. In her late teens got her Diploma in Game Ranging and Game Farm Management. She started horseback guiding in the Eastern Free State. Her passion for wildlife, horses, birding and touring in general has led her to numerous destinations across South Africa including horseback guiding in the Botswana Delta. Natalie knows Kruger National Park like the back of her hand. She currently lives in the Eastern Cape with her husband and 2 children. Natalie will go out of her way to make you comfortable and enjoy yourself on your tour..
Family photo – click to enlarge.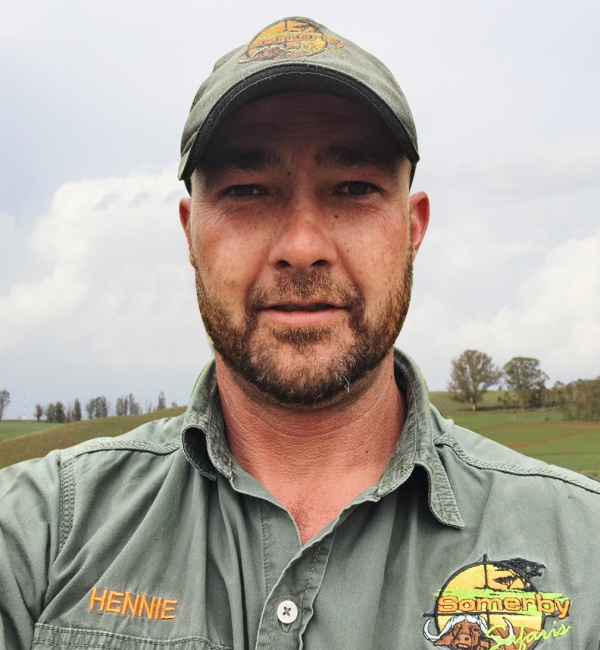 Hennie was born and raised in Gauteng. His love and passion for the outdoors led him to start his hunting career in the Free State province then moved up North to Limpopo province. The challenge of the hunt is what gets him going in the mornings. He truly believes that "It's not a job it's a lifestyle"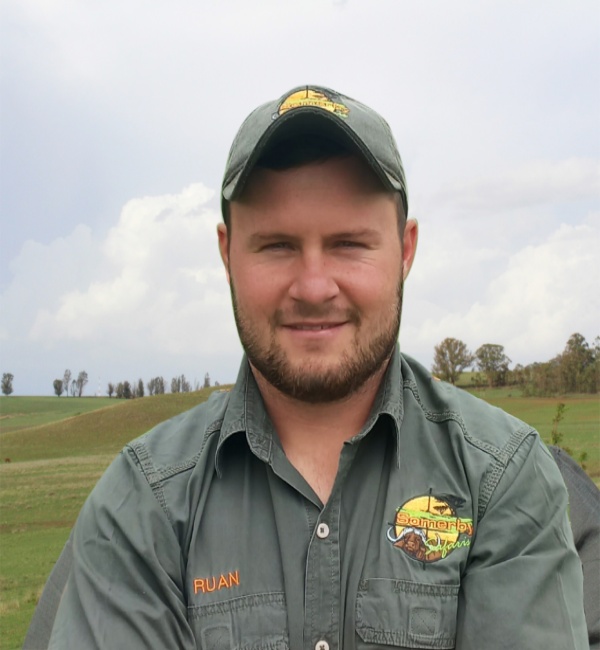 Ruan was born and bred in the Eastern Free State with a passion for the Outdoor life. Spending time in the great outdoors and around the campfire with wonderful people is why he loves what he does. Ruan enjoys hunting Nyala in the bushfields of South Africa.